presented by City Tours Germany
About Busvermietung Bremen
Busvermietung Bremen is a charter bus company offering coach and minibus rental in Bremen and anywhere in Germany. The website is operated by the tour operator City Tours Germany with headquarters in Duisburg. The administrative management of all charter bus services booked with Busvermietung Bremen is guaranteed by the pan-european coach rental company City Tours GmbH in Vienna. All transfers and sightseeing tours are executed by local bus companies from Bremen and its surroundings.
On this page, you will find all important information about Busvermietung Bremen and its operator City Tours Germany:
About the tour operator City Tours
The company City Tours GmbH is a Vienna based tour operator founded in 2005. Together with charter bus companies from Austria, Germany, Poland, Italy and entire Europe, City Tours provides reliable coach service for any kind of transfers and sightseeing tours by buses and minibuses with driver. Additionnally, City Tours operates a pan-european tour guide register and can provide you with professional, licensed tour guides for your sightseeing tours.
Presently, City Tours has subsidiaries in Italy (with headquarters in Merano), in Poland (with headquarters in Kraków) and a legally dependent branch in Germany (with headquarters in Duisburg). Thanks to the great success of City Tours in the fields of motorcoach and minibus rental and relying upon thousands of content customers throughout Europe, City Tours is currently preparing the establishment of subsidiaries and branches in entire Europe.
Legal information about City Tours GmbH
The share capital of City Tours is EUR 35.000,00 (in words: thirty-five-thousand Euro), the executive directors are Ms Felicitas Bachner and Mr Alexander Ehrlich, the companies head office is situated at Rosaliagasse 19/6, A-1120 Vienna, other offices operated by City Tours are: in Austria: Rosaliagasse 19/6 - A-1120 Vienna; in Italy: via Goethe 7, I-39012 Merano; in Poland: ul. Miłkowskiego 3 lok. 501, PL-30349 Kraków. City Tours is registered with the trade court of Vienna (Handelsgericht Wien) with the number 355042x, has the VAT identification number ATU66115401, the tour-operator number 2011/0010 and the DVR-number 3000394. The safety of customer's payment is warranted by: Zürich Insurance under the guarantee number 701.014.823.504, executor: Europäische Reiseversicherung, Kratochwjlestraße 4, A-1220 Vienna.
Legal information about City Tours Germany
In Germany, City Tours operates a legally dependent branch with the name "City Tours GmbH - Deutschland" and headquarters at Gravelottestraße 25, D-47053 Duisburg. It is registered with the court of Duisburg with the company number HRB 25504 and can be legally represented individually by Ms Felicitas Bachner and Mr Alexander Ehrlich. The VAT identification number of City Tours Germany is DE815344109. Bank account details: Deutsche Bank Passau, Ludwigsplatz 5, D-94032 Passau, account number 503599300, sort code 75070024, IBAN DE 6775 0700 2405 0359 9300, BIC DEUTDEDB752.
How to get in touch with Busvermietung Bremen
You can reach Busvermietung Bremen and City Tours Germany at the email address and by phone at +49 172 83 44 164. We shall be pleased to answer all your questions about bus rental and minibus charter and are looking forward to your message!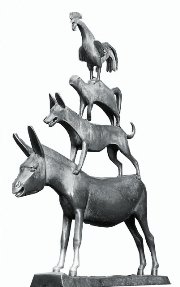 Source: Wikimedia Commons. Author: Gero Brandenburg. Licence: Creative Commons 3.0 Unported. Adapted by: Marine Ménard



Partner websites
---