presented by City Tours Germany
Long distance coaches from Bremen
Besides our coach rental for city sightseeing tours in Bremen, for local coach transfers in Bremen, Bremerhaven and their respective surroundings and for bus excursions to mid-distance sightseeing attractions, our charter coach service does also offer you the possibility to rent long distance coaches for bus travel from Bremen or Bremerhaven to all important sightseeing destinations anywhere in Europe.
About our long distance coaches
For long distance bus travel from Bremen, we use particularly comfortable buses with some additional features, compared to the normal "local coaches" in Bremen. While passengers usually spend just short intervals of time on a local coach, they do spend many hours on a long distance coach, and sometimes they even travel by night and sleep on the bus while it's moving. Therefore, a long distance coach must have a bit more space between the seats than a local coach, and it must have reclinable seats. Mostly, it does also have a toilet, a coffee machine and sometimes even a small kitchen for additional comfort during the journey.
If the travel itinerary includes a bus tour in Italy, it is also very important that the coach has the lowest possible emission rates and the most recent year of construction, because this will considerably lower the costs for city access passes. Of course, it is also beneficial for the environment and for the life quality of the local residents. Therefore, we normally use long distance coaches that are no more than maximum two years old (after this period of time, they become "local coaches").
About our long distance drivers
Another important difference between local and long-distance bus rental is the requirements for the driver. While for local service, the driver does need much experience in his hometown, but not necessarily any management skills at all, a long-distance driver must be able not only to prepare himself well for any region he might come through, but also to fulfil some additional customer expectations. He needs to communicate in English on a much higher level than the local driver, he needs to be able to solve administrative problems like arranging a parking, reserving a citypass, checking an unknown route for accessability etc. etc. A driver is never meant to be a tour leader, and of course no tour guide either, but a long distance coach driver does definitely need to manage at least his own driving time planning and the traffic-related issues in a foreign country without assistance. Therefore, we use only our very best drivers for long distance bus tours across Europe.
Rent a long distance coach
If you want to hire a bus with driver for a long-distance tour across Europe, starting in Bremen, please contact us at . If you need a long distance coach for a tour that starts in any other city in Europe, please refer to our partner website "Europe Buses" for international long distance charter coaches.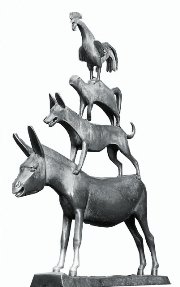 Source: Wikimedia Commons. Author: Gero Brandenburg. Licence: Creative Commons 3.0 Unported. Adapted by: Marine Ménard



Other long-distance coaches
---